Shop Opera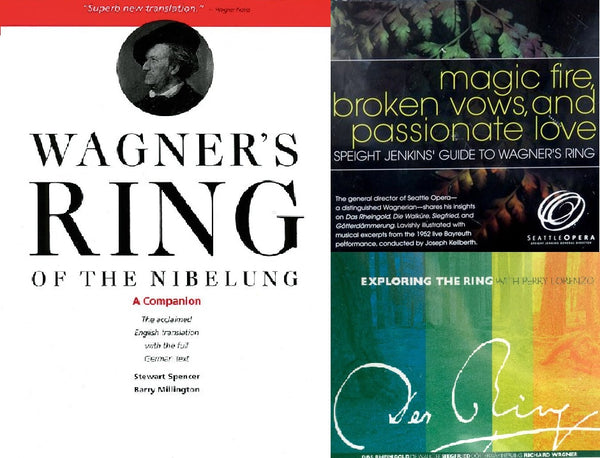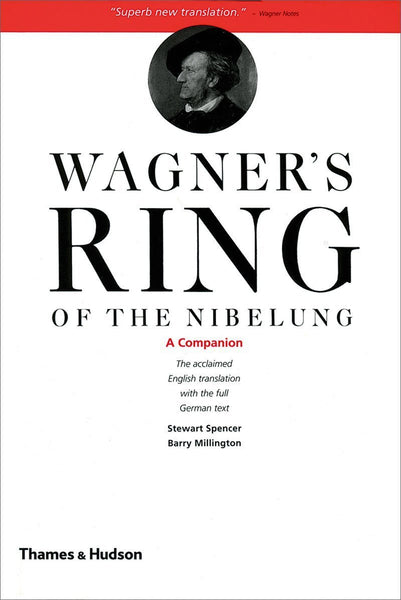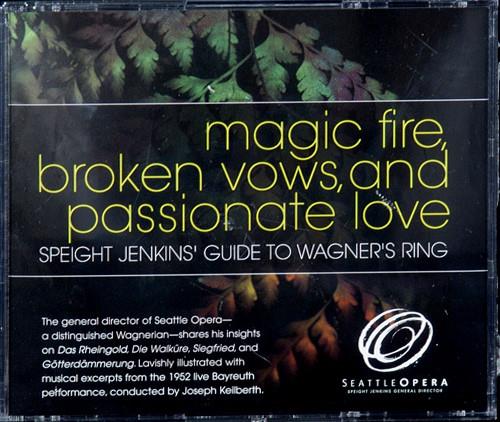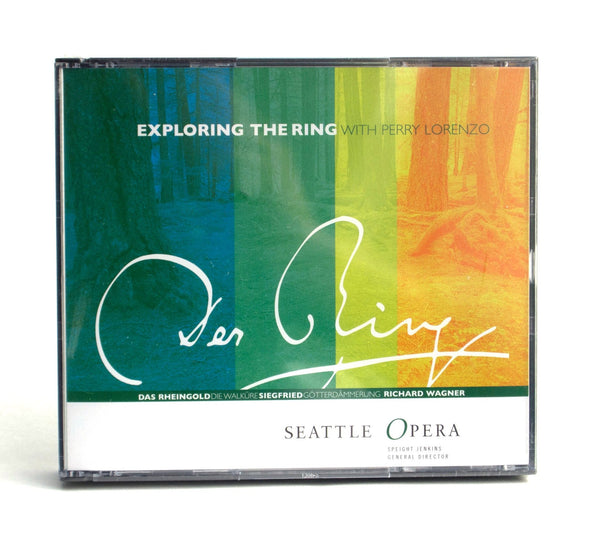 Wagner's Ring Listening Pack -
$65.00
Are you ready to listen to the Ring?! King FM will broadcast Seattle Opera's 2005 Ring Feb 6-13. To help you get the most out of this epic listening experience we have put together this book and CD package...
Save $15 off the price of buying these 3 items separately.
Includes Magic Fire, Broken Vows and Passionate Love: Speight Jenkin's Guide to Wagner's Ring CD. Former Seattle Opera General Director provides an in-depth guide to Wagner's mammoth Ring cycle in this set of informative and enlightening CDs. You'll explore Wagner's approach to the music and the libretto, with plenty of examples to illustrate the composer's innovative techniques. The liner notes include German and English translations of all of the opera excerpts cited on these 4 CDs. 
And Perry Lorenzo's Exploring the Ring CD. By former Seattle Opera Education Director. Recorded for Seattle Opera's 2001 Ring, these talks, punctuated with Lorenzo's trademark wit, provide insight into the rich musical, dramatic, and historical contexts of Wagner's masterpiece. This CD set illustrates why opera companies from San Francisco, Chicago, New York -- even Bayreuth -- frequently called on Lorenzo's lecturing talents. 4-disc set.
And Wagner's Ring of the Nibelung: A Companion. There had long been a need for a modern English translation of Wagner's Ring—a version that would be reliable and readable yet at the same time be a true reflection of the literary quality of the German libretto. First published in 1993, this acclaimed translation, which follows the verse form of the original exactly, filled that niche. It reads smoothly and idiomatically, yet is the result of prolonged thought and deep back- ground knowledge. 
The translation is accompanied by Stewart Spencer's introductory essay on the libretto and a series of specially commissioned texts by Barry Millington, Roger Hollinrake, Elizabeth Magee, and Warren Darcy that discuss the cycle's musical structure, philosophical implications, medieval sources, and Wagner's own changing attitude to its meaning.
With a glossary of names, a review of audio and video recordings, and a select bibliography, this book is an essential complement to Wagner's great epic. 
384 pages with 16 black-and-white illustrations.
---
RELATED PRODUCTS